With the advancement of technology in the past decade, many young entrepreneurs have founded their company and become the billionaires at an early age.
Here is the list of seven self-made billionaires under the age of 35.
1. Mark Zuckerberg
Who doesn't know Mark Zuckerberg, co-founder and chairman of Facebook became the youngest billionaire at the age of 27. According to reports, he tops the list as the self-made billionaire and his total net worth is $69.2 billion. Harvard University dropout founded Facebook in 2004 and since then, his company is reaping billions through ad sales.
2. Dustin Moskovitz
Dustin Moskovitz along with Mark Zuckerberg, who was his then roommate in Harvard University, created Facebook together. Dustin, co-founder of Facebook has total net worth of 13.3 billion dollars, becoming the second youngest self-made billionaire in the list.
3. Eduardo Saverin
Eduardo Saverin, once part of the founding team of Facebook had given $15,000 to Mark Zuckerberg before creating the social network. As per reports, he later had a dispute with Zuckerberg but still owns a minority share in the company. His net worth of 9.6 billion dollars makes him at the third spot in the list of self-made billionaries.
4. Elizabeth Holmes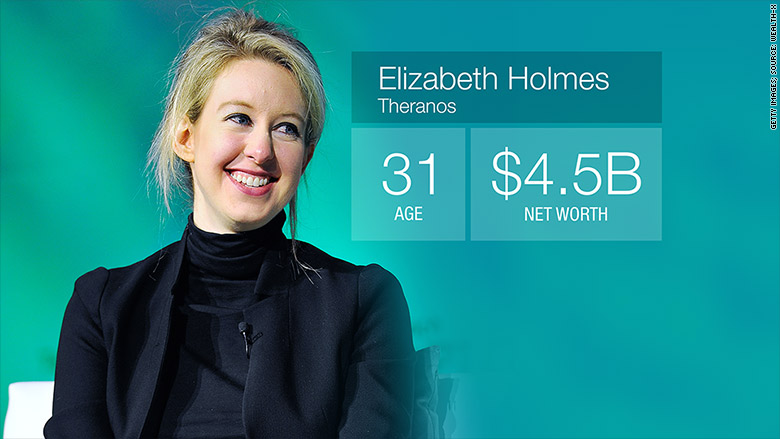 With a net worth of $4.5 billion Elizabeth Holmes is the world's youngest self-made woman billionaire. She is the founder and CEO of Theranos. The 34-year-old had founded the blood-testing company in 2003.
5. Nathan Blecharczyk
Nathan Blecharczyk is the chief technology officer of Airbnb, house rental site. The company was launched in 2008. The 34-year-old Nathan Blecharczyk is one of the youngest billionaires with a net worth of 3.8 billion dollars.
6. Evan Spiegel
Evan Spiegel, is the co-founder and CEO of Snapchat. Spiegel, who co-founded Sanpchat, according to reports, has a total net worth of $3.3 billion. Currently, he is also the youngest billionaire who figures on the list
7. Bobby Murphy
Bobby Murphy, and his friend Evan Spiegel created Snapchat together, has a net worth of 3.3 billion. As per reports, Murphy had declined the offer of $3 billion by Facebook.
Stay tuned with Lopscoop for more latest updates