If we remove "DIS" from the word disability than that word itself states that it is not a disability but a different ABILITY. Today we will going to talk about the disabled Indian personalities who won a great achievement in their life. Here are some Life inspiring Indian personalities:
Rajendra Singh Rahelu
Rajinder Singh Rahelu effected by the polio. At the age of 9 he decided to study hard but due to this disability he faced many problem. After few years a power lifter suggested him to try this sport and unreliably Rahelu performed really well in this. He continued to practice, and today, he has created history after winning a silver medal in power lifting at the Commonwealth Games 2014.
Arunima Sinha
Arunima Sinha lost her leg when some robbers pushed her out of a moving train. Two years later, she became the first woman amputee to climb Mount Everest. She disliked the look of pity and sympathy in everyone's eyes and did not want to be looked upon as a handicapped person. She has proved that a strong determination and will is far more important than a strong body.
Sudha Chandran
Born and bought up in Kerala, this 50-year-old artist met with an accident when she was just 16year old. Doctors missed a small wound in her ankle and plastered it, which later got infected and there was no alternative left but to cut her leg from the joint. She overcame her disability by getting a prosthetic "Jaipur Foot" and became one of the most popular and acclaimed classical dancers of the country. Apart from that, Sudha also known as one of the leading face of Indian television industry.
Ravindra Jain
Born visually impaired, Jain started singing at a very young age and took his passion to a new high when he joined the Indian music industry, becoming one of the most notable music directors of the 1970s. He was so dedicated towards his work that when, during one of the recording sessions, his father passed away, but he still did not leave the recording room until the recordings were finalized. Apart from composing various 'super-hit' songs for Hindi movies, he had also launched several private albums which were praised by many.
Akbar Khan
Born visually impaired in a poor family in Rajasthan, Khan saw a tough childhood. But with immense support from his elder brother, who also happened to be visually impaired since birth, Khan managed to continue his studies with excellent results. Having a great interest in music, Khan was invited to various platforms as a performer as well as a judge. His biggest achievements include getting a National Award for The Welfare of Persons with Disabilities in 1989.
Malathi Krishnamurthy Holla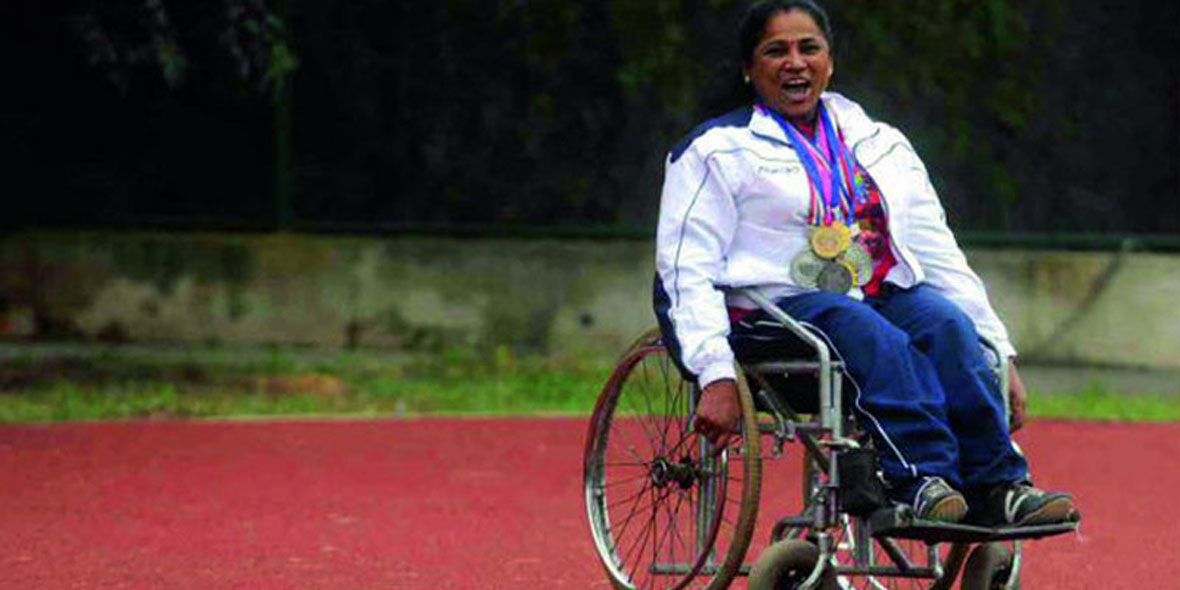 This international para-athlete from Bangalore was paralyzed completely at the tender age of one after a high fever. A regular electric shock treatment for two years got the strength of her upper body back, but below the waist her body remained weak. Holla decided to live life in the best possible way and chose sports to excel in. She started participating in various games at college, and today she has taken part in various international events including the Para-Olympics. She won Gold in 200m, shot put, discus and javelin throw at the 1989 World Masters' Games in Denmark. She has over 300 medals in her kitty, and is also the proud recipient of the Arjuna Award and Padma Shri.
No one can stop you to achieve your dream until you lost your interest in you. In the end I'd like to conclude that disabled means differently abled. Never lose hope and always give respect to all.
Stay tuned to Lopscoop. Happy weekend!!